2 Adults, 0 Children, 0 Infants
Destination &

Beach Nearby
Strategically located on Dharmawangsa Street, Nusa Dua, in the southern part of Bali, this property consisting of 31 private pool villas offers access to activities inside and outside the property.
Only 21 minutes drive from Ngurah Rai International Airport, this villa provides a variety of in-villa activities, gastronomic journeys at its flagship MADAWA Restaurant, Club & Lounge, and other natural, sport activities (Golf Specialty) from culture to adrenaline seekers.
Feel our touch while you are in Bali with Taman Dharmawangsa Suites' signature hospitality and our tagline "Holiday Home With Resort Facilities".
Distances
| | |
| --- | --- |
| Ngurah Rai Airport (21 minutes) | 15 KM |
| Seminyak, Kuta, Legian (23 minutes) | 17 KM |
| Sanur (29 minutes) | 21 KM |
| Ubud (60 minutes) | 44 KM |
| Jimbaran (21 minutes) | 10 KM |
| Canggu (44 minutes) | 30 KM |
Pandawa Beach
Only 11 minutes drive from Taman Dharmawangsa Suites, Pandawa Beach (or Pandava beach) was formerly known as one of the regions secret beaches due to its location behind a mountainous area that secluded its site to the unknown in the south of Bali.
Pandawa beach is surrounded by two mejestic cliffs with one of them, carved into the cliff, the statues of the five Pandawa and the Kunti goddess. The six statues from top to bottom are Kunti, Dharmawangsa (Yudistira), Bhima, Arjuna, Nakula, and Sahadeva.
The villa clusters and some of our products at Taman Dharmawangsa Suites are also follow some great character names in Mahabharata epic.
The beach is well known as a tourist attraction and its water sports but it is also known as a seaweed algaculture farm. It has a shallow long beach face that is suitable for farming seaweed by the locals Balinese.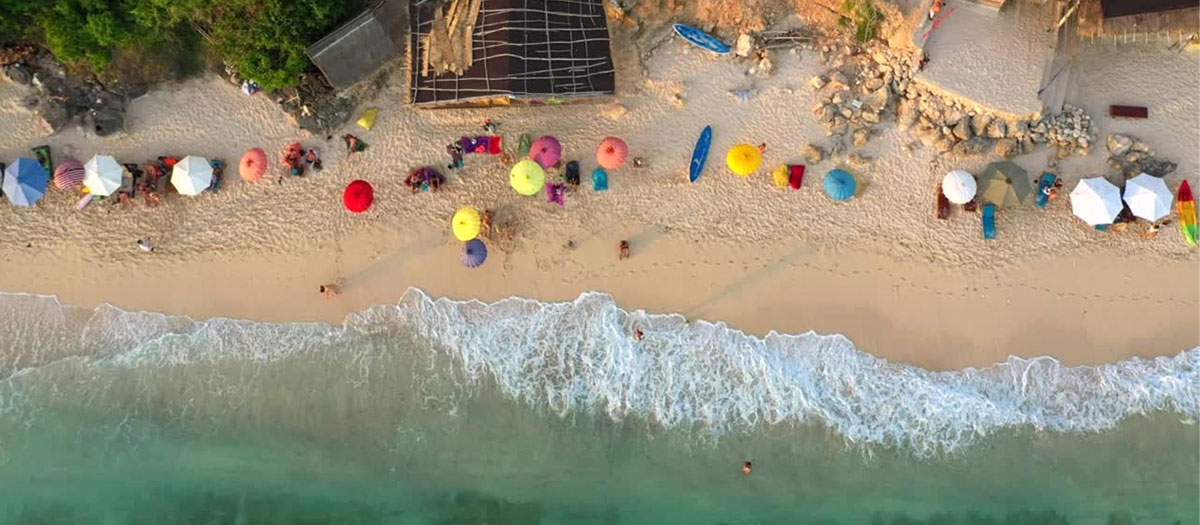 Melasti Beach
Only 15 minutes from Taman Dharmawangsa Suites, Melasti Beach presents a blend of natural beauty of the white sandy beach and various Balinese cultural attractions that can be enjoyed at a one stop beach destination.
The Charming Beach Destinations with the photogenic Twin Hills, Angsoka Park, Kori Agung, Watugangga Pavilion, Folk Culinary, Kecak Dance Show and the beauty of Melasti Beach.
This is a beach tourism destinations with the application of the concept of Harmonization thats so called Tri Hita Karana in the Ungasan Traditional Village, which will give you the real Balinese experience.
Melasti Beach used to be considered as one of the hidden beach in the south part of Bali due to it was enclave behind the huge towering limestone which also make now the adrenalin pumping access after the mount carving was made to reach this destination, which is one of its unique features.
Gunung Payung Beach

The name of Gunung Payung Beach is not as popular as other beaches in the South of Bali. However, Gunung Payung Beach can be the choice of tourists who don't like crowds. This beach is often referred to as a "private beach" because the situation is quiet. Gunung Payung Beach is located behind the hill of Kutuh Village.
The name of this beach is taken from the temple which is nearby. The temple is named Pura Dhang Kahyanga Gunung Payung.
This beach is hidden and tourists need extra energy and adventourous spirit to get to Gunung Payung Beach. From the west, from the T-junction to Pandawa Beach there will be a straight line to Gunung Payung Temple.
It is only 11 minutes drive from Taman Dharmawangsa Suites to reach to Gunung Payung Beach parking area. After the parking area, tourists must walk down about 300 steps or a slightly steep path for about 20 minutes.
Most of those who visit this beach are tourists who want to surf because the waves are big and face directly to the Indian Ocean.
Because there are no sellers in the beach area, tourists are advised to bring their own drinks and food.
You can grab the Picnic Lunch Box from our MADAWA Restaurant, Club & Lounge whenever visiting this remote and hidden beach. Why Not?
Point of Interests
We would like also to take you to some point of interest within the southern part of Bali. From the sacred Uluwatu Temple as the landmark of the South, down under to the peninsula of Nusa Dua.
You can find a huge and wide varieties of cultural, natural, parks, leisure, museum, sports, shoppings, water & sea activities, including Bali's largest conference facilities in ITDC.